Masuoka Architectural Contractors Inc (Japan) visited and worked at TEXO
Masuoka Architectural Contractors Inc. is a Japanese enterprise with more than 110 years of history in the field of architecture and road construction. On November 30, 2022, the representative of Masuoka Architectural Contractors Inc., Mr. Oba Akio – Director of Overseas Business Division and Mr. Miyazawa – Head of Representative Office in Hanoi had a meeting at TEXO with the desire to be able to cooperate with a reputable consulting company in Vietnam.
Attending the meeting, on the TEXO side, there were Mr. Do Quoc Huynh – Chairman of the Board of Directors, General Director, Mr. Le Anh Tra – Deputy General Director, Mr. Pham Xuan To – Head of Technical Department.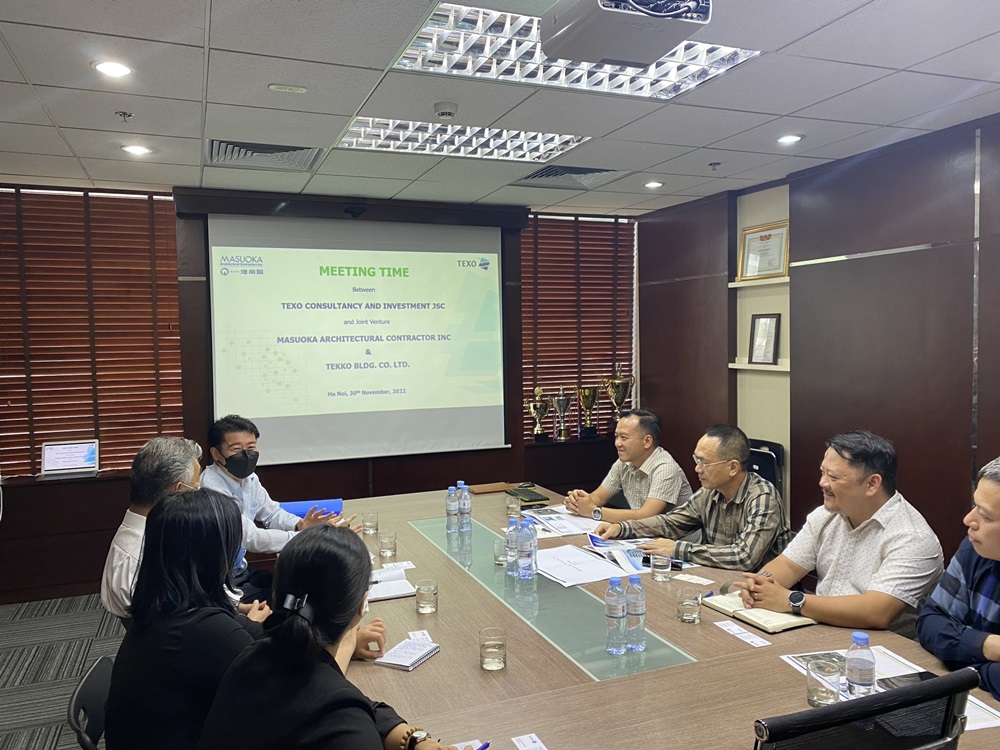 At the meeting, the two Companies assessed the cooperration opportunities between the two parties through the ongoing projects and exchanged plans to expand cooperation in the near future. General Director Do Quoc Huynh affirmed that TEXO is always ready to cooperate with Masuoka Architectural Contractors Inc to create sustainable and reliable buildings in the future.
Masuoka Architectural Contractors Inc. was established in 1908. Over 110 years of continuous development with the business philosophy of serving the development of the community by building, protecting, planning, creating a richer environment, Masuoka has now become an enterprise with a key role in the general construction industry, with a lot of branches in Japan and representative offices in Vietnam.
At the end of the meeting, the leaders of the two sides hoped that TEXO and Masuoka Architectural Contractors Inc would strengthen the relationships and cooperation opportunities in the near future.