Core Pacific Group (Taiwan) visit and work at TEXO
On the morning of April 5, 2023, TEXO Consultancy and Investment Joint Stock Company welcomed delegation from Core Pacific Group (Taiwan) to visit and work. This visit has an important meaning in the cooperative relationship between Core Pacific and Texo.
On the Core Pacific group's side, there is the participation of:
– Mr. Tham Khanh Linh – Chairman of Core Pacific Group
– Mr. Luu Van Chi – Development Director of Core Pacific Group
– Mr. Diep The Phuong – Senior Advisor of Core Pacific Group
– Mr. Dang Te Phuc – Director of BES Engineering Corporation of Core Pacific Group
– Mr. Bui Tuan Anh – Project Development Director of BES Engineering Corporation
– Ms. Lai Uc Phan – BES Senior Assistant
– Mr. Phan Quang Dung – Head of BES Project Management Department
– Mr. Tang Thoai Luan – BES expert
On Texo's side, there is the participation of:
Mr. Do Quoc Huynh – Chairman of the Board, General Director
Mr. Nguyen Quang Vinh – Deputy General Director
Mr. Le Anh Tra – Deputy General Director
Mr. Pham Xuan To – Head of Technical Department
Ms. Le Phuong Ly – Head of General Administration Department
Ms. Doan Thi Hai Van – Marketting Development Director
Mr. Hoang Duc Vu – Deputy Director of Consulting Center 10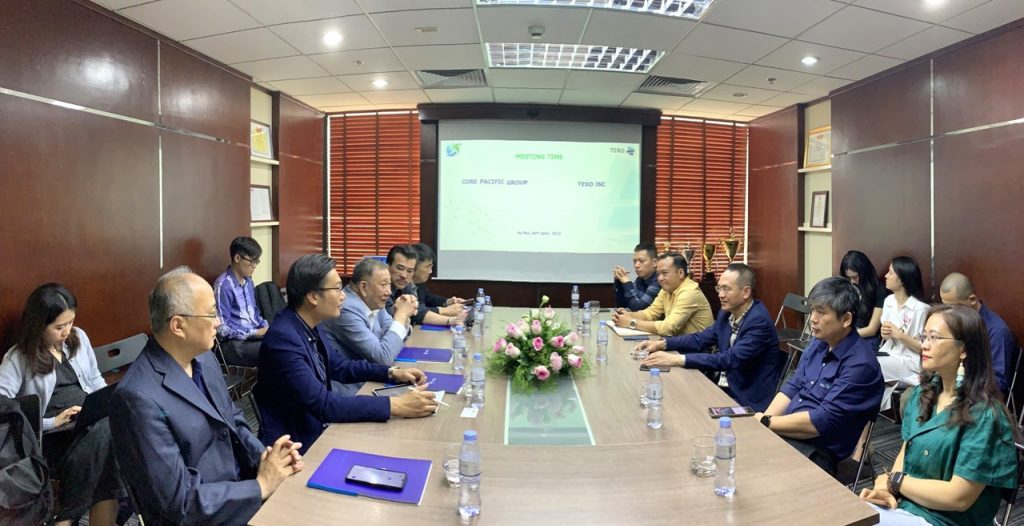 Established in 1974, Core Pacific is the largest and second largest real estate group in Taiwan, headquartered in Taipei city. Core Pacific Group's business scope includes petrochemicals, infrastructure construction, urban development and operations, and financial services. In addition, the group also actively participates in cultural education and creation and fulfills its corporate responsibility towards society. The Group always considers the "global campaign" as a development vision to create welfare for everyone and achieve upward integration and self-transcendence, creating endless motivation.
BES Engineering Corporation (BES) is a construction company under Core Pacific Group. This is a brand that is familiar to the global construction industry, and is the brand of the most excellent projects in Taiwan such as: Tao Building. Zhu Yin Yang – Taiwan's most expensive and luxury housing project, Taoyuan International Airport International Terminal, Tucheng AI High-tech Sciene Park (New Taipei) – one of the most modern industrial parks in Taiwan Loan and is the first place to apply the latest advanced artificial intelligence techniques in the world…
BES is present in many countries around the world but mainly as a construction contractor. Now, BES's big ambition is to become a project developer in the potential Vietnamese market. With many years of experience in the construction industry, BES is aiming to become a pioneer in the construction field in Vietnam.
At the meeting, Core Pacific Chairman Tham Khanh Linh and BES Director Dang Te Phuc wished to further expand cooperation with Texo to build a solid foundation for diverse, sustainable and developed combinations. development of the two sides, hopefully BES will receive cooperation and support from Texo – one of the most prestigious and capable construction consulting companies in Vietnam. Responding to partners' wishes, Texo General Director Do Quoc Huynh expressed that Texo is always ready to cooperate with BES in the areas of strength of both sides to improve project quality, develop capacity as well as enhance position and brand reputation of both companies in the Vietnamese and regional markets
Hopefully the meeting will bring certain results in the investment cooperation relationship between the two sides. Wishing that the next working sessions of Core Pacific and Texo will be successful.
Some photos of the meeting: